When I go skiing I have one mission in mind; stay warm and comfortable. Oh, and have fun of course. When it comes to my on-mountain style I get technical. After extensive research, I bought my gear at a REI garage sale a few years ago and I wear the same ensemble every weekend during ski season. I've thought about buying new pieces, but I really love the pieces I own. The area that I have a lot of fun with is the après ski scene pieces. That's when the need for technical pieces disappears and you can play with fashion.
On the Mountain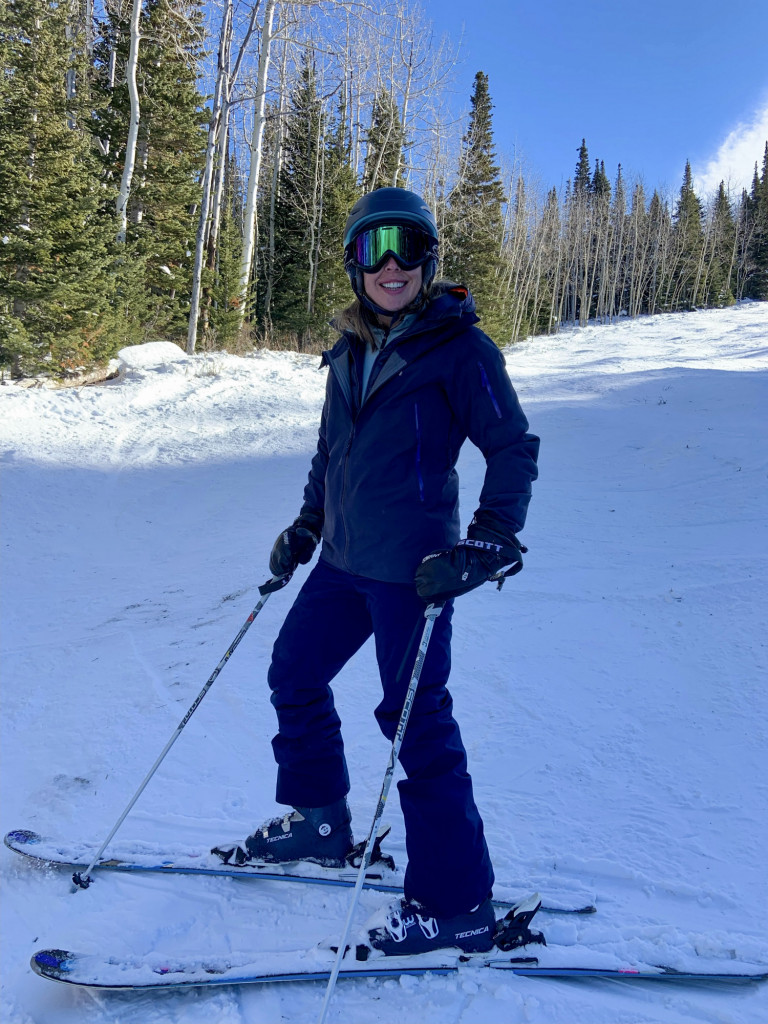 I wear Arcteryx when I am on the mountain. Listen, gear from Arcteryx isn't cheap which I why I own one set and I wear it every Sunday year after year. If you are interested in investing on some fantastic technical gear then these pants and this shell jacket will serve you very well. You will need a down coat under the shell and again Arcteryx wins this category for me. I wear this down jacket under my shell when the temps dip below 25 degrees.
I did recently discover Halfdays a women specific ski and snowboard brand. I am pretty impressed by what I've seen. In particular this jacket and these pants. The cost of these pieces is much more reasonable than traditional technical gear. If you are dipping your toes into skiing and snowboard I would absolutely go with Halfdays.
Next, we have base layers. I will always go with Icebreaker. On a warmer day I'll wear this long sleeve base layer under my down and shell combo. If it's really cold I'll add this shirt as well. The final pieces would be my tights and ski socks. What you wear on the mountain is all about making sure you can perform and stay comfortable.
Après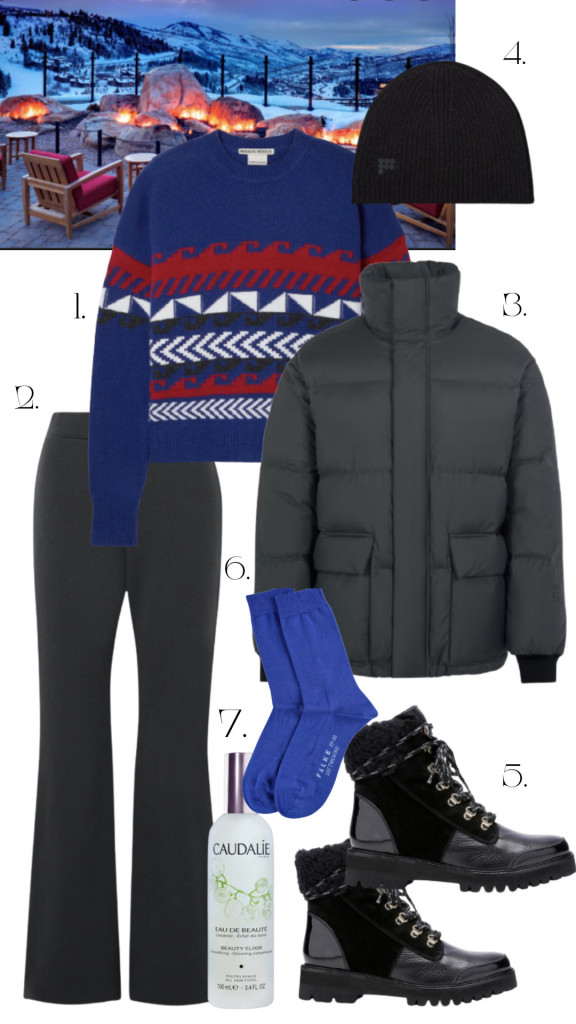 This is the fun part of ski season. When you take off your many, many layers and get a bit dressed for (spiked) hot chocolate and fireside dining. A big thing for me is finding pieces that allow your skin to breathe after a day on the mountain. I bought this sweater (1) from Paradis Perdus last year and it is incredibly soft. I also love the vintage look. These pants (2) from Caes have been on my body all winter. They are a bit stretchy which feels great after wearing tight base layers for hours. I am lusting after a coat (3) from 66 North. A black down coat is very chic and goes with everything. Let's talk about helmet hair. It's a very real thing and the best way to deal with it is a good recycled cashmere beanie (4).
The best boots to wear after a day on the mountain are ones that stretch a bit and are warm. That is why these boots (5) from Flattered are perfect. True story; I once tired to wear a pair of chelsea boots after skiing, but my feet were a bit swollen from a day in ski boots. The result? I was so uncomfortable I walked around the hotel bar in my socks. True story. I cannot say enough wonderful things about Falke socks. I own a few pair of these merino wool socks (6) and I love them so much. Finally, spritz this face spray (7) on your face and you are ready to tackle the après scene like the glamorous individual that you are.