Good American: Every piece in the collection is shown on three size ranges of models, to eliminate the friction around finding your perfect fit. High quality fabric, a relentless obsession with fit, and an uncompromising attention to comfort.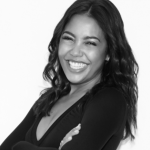 Nudie Jeans: A Swedish denim company that has been recognized for their work with sustainability, both environmental and social. With a denim selection made from 100% organic cotton and transparent production.
Warp + Weft: Unlike traditional fashion brands Warp + Weft designs for all bodies. Informed by customer data and specific needs they fit-test each style on customers of all ages and sizes.