There is a lot of articles about travel style. Occasionally I'll see a few ideas that resonate with me. Generally though I find them laughable. Awhile back my husband and I sold our house and basically all our belongings. We set off for four years and traveled. During that time we took a lot of flights. Which is why when I see an article talking about high rise denim and boots as great travel clothing options I laugh. Honestly, there are very few things in life I truly understand and have well-researched opinions about. Traveling comfortably though I can talk about for hours with confidence.
Flight time: 1-3 hours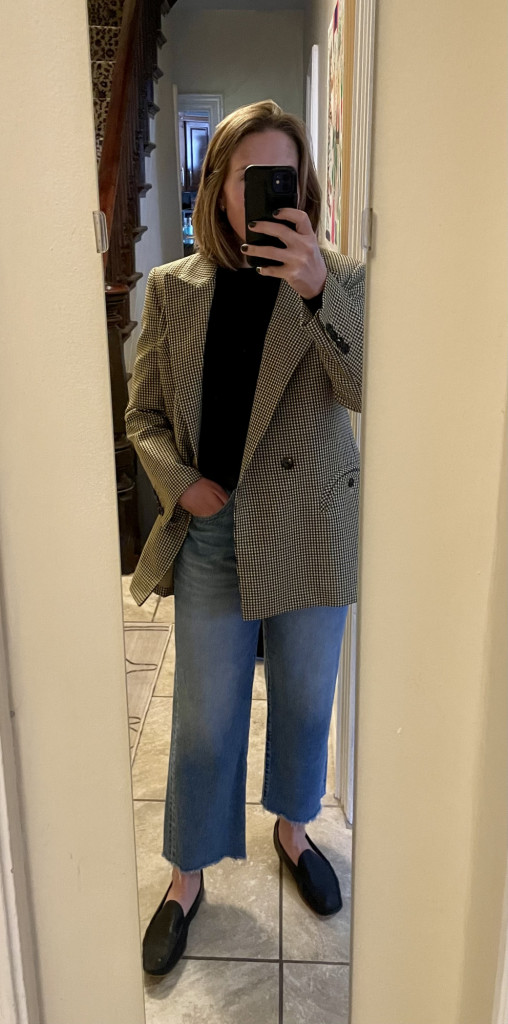 Let's chat about appropriate plane denim. First off, it must be stretchy and rise mid-waist. I prefer mine slightly cropped so I am not dragging my pants through the airport. To balance the casualness of cropped (and possibly frayed hem denim) I pair it with a very light weight cashmere sweater. I recommend a silk or satin cami underneath. Pair it with a blazer that is unstructured. Key word: unstructured. Something that you can easily throw on and sits slightly loose around the shoulders. For shoes I go with flats that are made from very soft leather. You need shoes that will expand as your feet swell. This is not the time to break in your new loafers.
Flight Time: 4-7 hours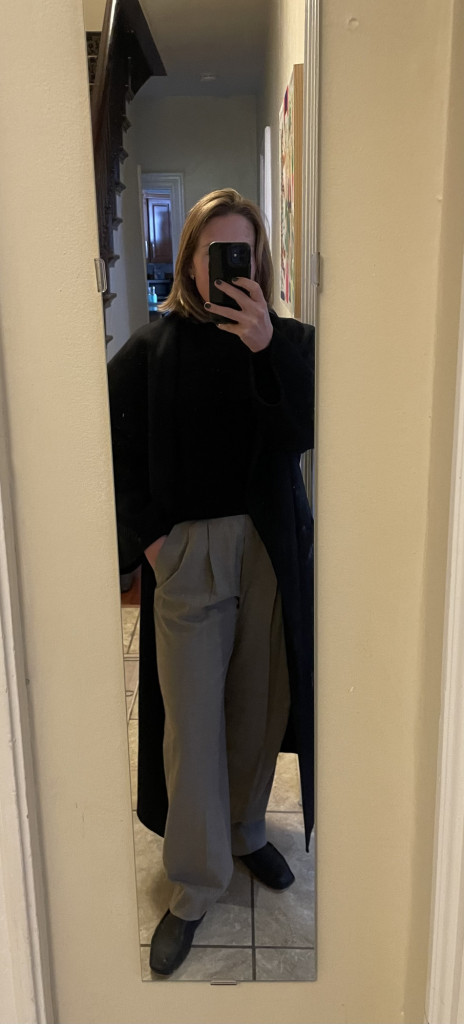 Elastic waist pants are your friend. I like mine to have a bit of tailoring to them so I feel polished, but I can sit comfortably and eat without feeling like I have to unbutton them. Again, a lightweight cashmere sweater that hits right at the waist balances the looser pant. Plus, a little front tuck feels chic without any effort. I paired this look with a blanket type coat. Again, unstructured is best. Pick something you can easily throw on and is mid-weight. The key is to have an outerwear piece that isn't so heavy it feels burdensome to carry once you take it off. Lastly, choose shoes that have some stretch. These ones work too.
Overnight Flight: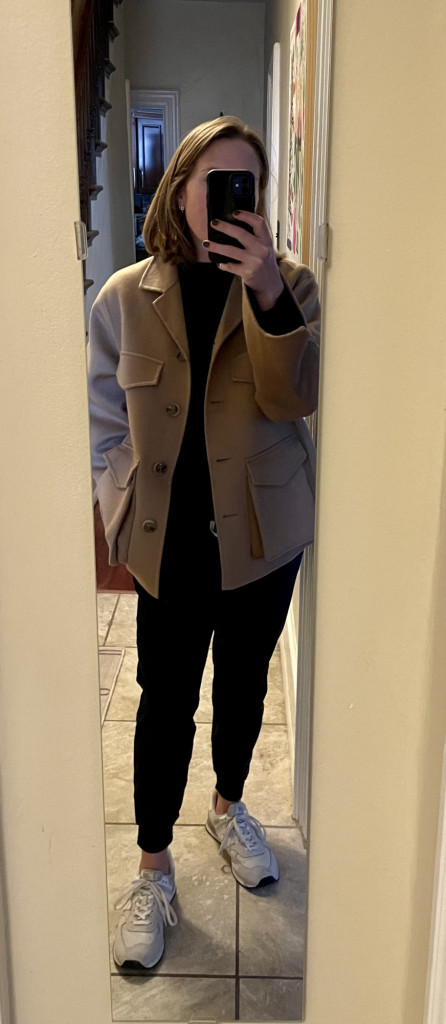 I recently completed 36 hours of flying in this exact outfit. First up, the perfect loose and stylish joggers. Styled with a sweatshirt in the same color. This part is critical. Always match in color the joggers/sweats to the top. This makes the look feel intentional. This very comfortable, and casual, look should be topped with something elevated. This jacket and this one as well are great choices. I like to have a jacket that is a bit oversized. That way I can wrap myself in the coat during the overnight flight. You'll want a proper pair of tennis shoes that you can comfortably walk laps around the airport in.
Early Morning Flight: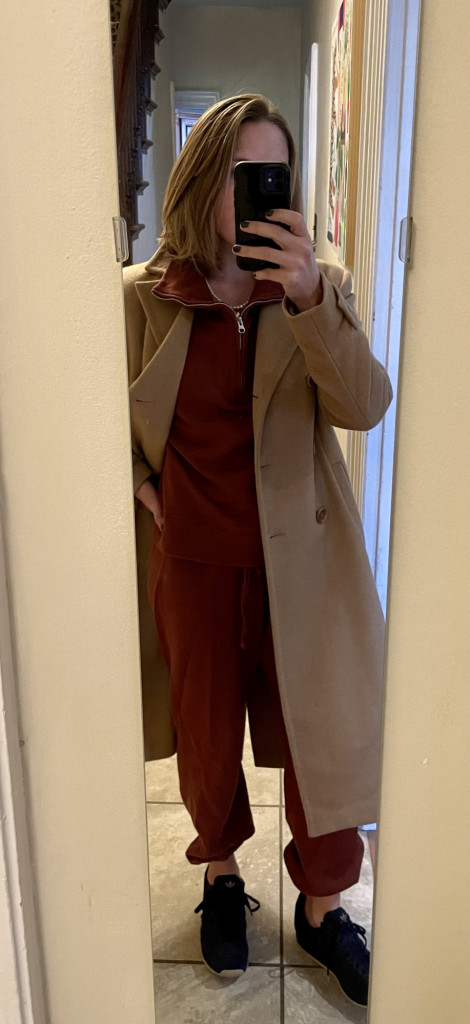 We have all experienced that 4 am alarm to catch a plane. This is when I turn to a matching sweat set. A few key points here. First, make sure the top and bottom are matching. I am sorry but anything else looks too casual for public. Add really good outerwear. A few key points to the proper coat that balances out slightly oversized sweats in public; 1. Long. It needs to hit at least mid-shin, 2. A classic color or pattern (black, camel, or herringbone), and 3. The coat should have some tailoring to it.  Rule of thumb is always off-set loose pieces with something tailored. Lastly, shoes. If I am wearing sweats in public then I make sure my tennis shoes (or boots) are clean and just a bit elevated.
Post-Flight: Casual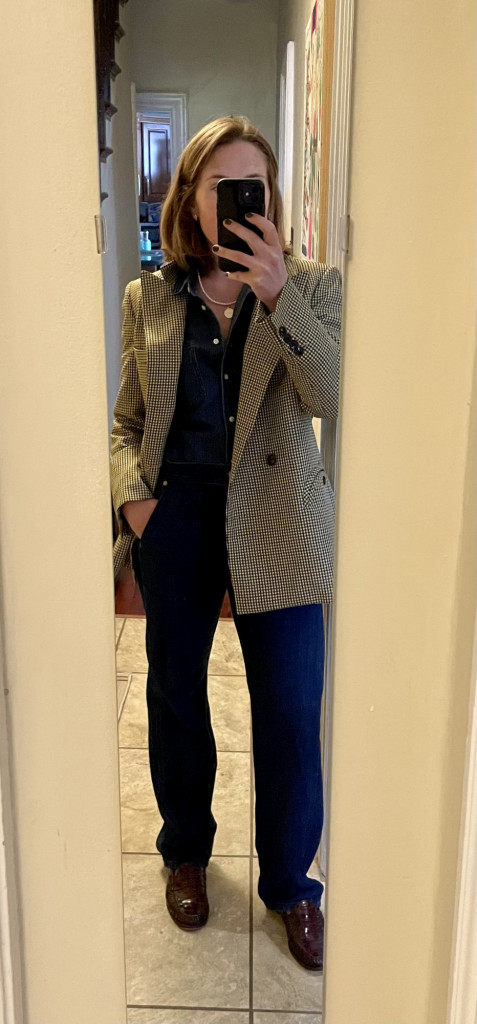 Once I arrive somewhere I just want to get out of my plane clothes as quickly as possible and get dressed easily. If I am doing something causal post-plane I turn to denim-on-denim. The denims do not need to match. A key point here is stack on some jewelry. Add a little shine to the denim. Throw on a slightly oversized blazer to add just the right amount of adult to the look. This one is versatile enough for many different looks,  and this one would look amazing against a denim look. I want to add that for the denim pants make sure they have great stretch to them. There is nothing worse than trying to put on tight jeans when you swollen from sitting on plane.
Post-Flight: Dressy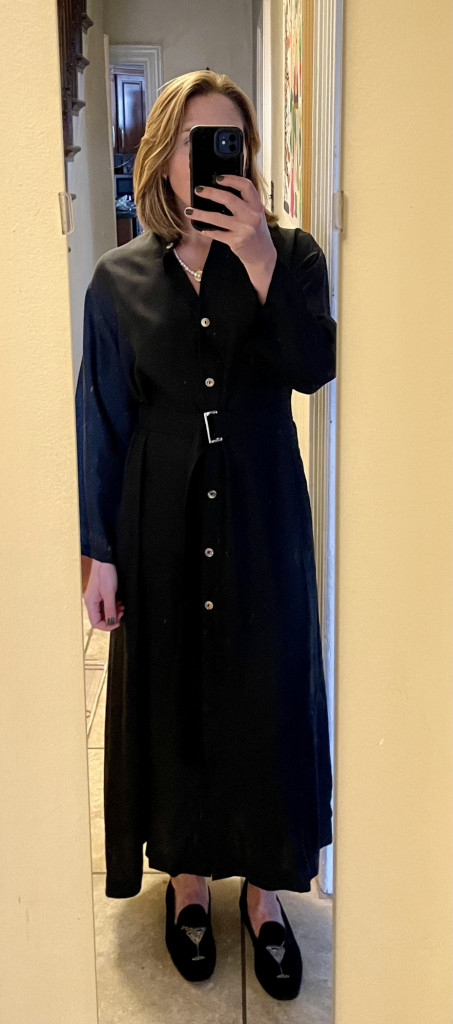 I struggle with the idea of the needing to get dressed up after I fly. I am generally swollen and bloated. General plane aliments. This is why if I do need to look more pulled together I go for a loose silk dress. Caften-esque. Plus, silk feels so good against the skin after flying. This one is a great color, and this is the exact one I am wearing, and finally this option is fantastic. Now, choosing the appropriate post-flight shoe is very important. Feet swell on a plane and so I always go for something that has some stretch in it. Velvet flats are my first choice when I need to get dressed up and feel comfortable.
Travel Accessories: 
Backpack: I do not mess with a tote bag. Instead this backpack has traveled with me for years and fits everything.
Socks: It doesn't matter what the duration of the flight. I always put these on once I board the plane.
Toiletry Bag: I traveled with this toiletry bag for four straight years. Yes, it truly fits that much.
Perfect Organizing Bags: I put the larger one in my backpack to organize pens, in-flight face stuff, and cords. I use the smaller one to organize my jewelry (I always use these silk sacks to protect each piece).