What is Yes Please? I spend a lot of time reading fashion articles and browsing sites looking for pieces that excite me. Pieces that make me stop and say; "Yes Please." At the end of every month I will write a brief post with the ones that pop back into my head randomly throughout my day. The ones that simply will not go away because I really love them. Now, remember I am not saying go out and buy these items. Simply looking at fabulous pieces of clothing can be quite fulfilling.
Yes Please- April 2022
I included a pair of Velvet Canyon sunglasses on my shop page awhile back and suddenly I am seeing them on all my favorite retailers sites. I am particularly in love with this pair that has an amazing retro vibe.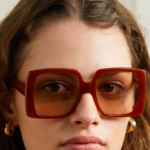 The Birkenstock 1774 collection is my favorite thing to watch right now as they just keep coming with perfectly minimalistic, yet chic designs. The newest release is perfect for summer. Now, is it absurdly expensive for Birkenstocks? Yes! Will I be watching every site to see if they go on sale? Hell yes.
This is the time of year where I turn to my favorite Aussie designers for inspiration. No one designs warm weather pieces as well as the Australians. I have two new designers to add to my watch list; Alemais and Savannah Morrow. Both designers perfectly encapsulate how I want to dress in the summer: Lots of linen, a touch of color and whimsy and uber-relaxed.
Do you remember when Dakota Johnson wore a silk robe when she went on Jimmy Fallon? Everyone went nuts because it truly is a power move. The robe was designed by Bernadette, an Antwerp based brand designed by a Mother-Daughter team. I have been eyeing their pieces for awhile and I am starting quite a healthy watch list on Matches in case those beauties ever go on sale.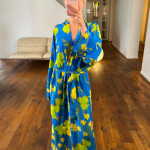 The latest collection from Wales Bonner has a 70's vibe that I am really loving. In particular, this matching this top and skirt look. I love the navy blue and white stripes done in way that feels classic, yet a bit more interesting than what we normally see.
Finally, every time I see these shoes from Gabriela Hearst I fall more and more in love. Maybe it's because they are from a designer I have so much reverence for. Maybe it is because I am desperate to see something in fashion that isn't trying to recreate 90's street style. Either way, I am stalking them on resale sites.
Now, I am off to bookmark the internet for next months installment of Yes Please.