The holidays are quickly approaching and that means getting dressed for multiple occasions. Shall we tackle Thanksgiving first? Great. I wanted to put together a few different outfits that will fit all your holiday weekend needs. An outfit that is a bit more casual, an outfit that is elevated, yet relaxed, and of course something a bit more fancy. While I usually spend Thanksgiving in loungewear making these edits makes me want to get dressed up a bit.
The Casual Look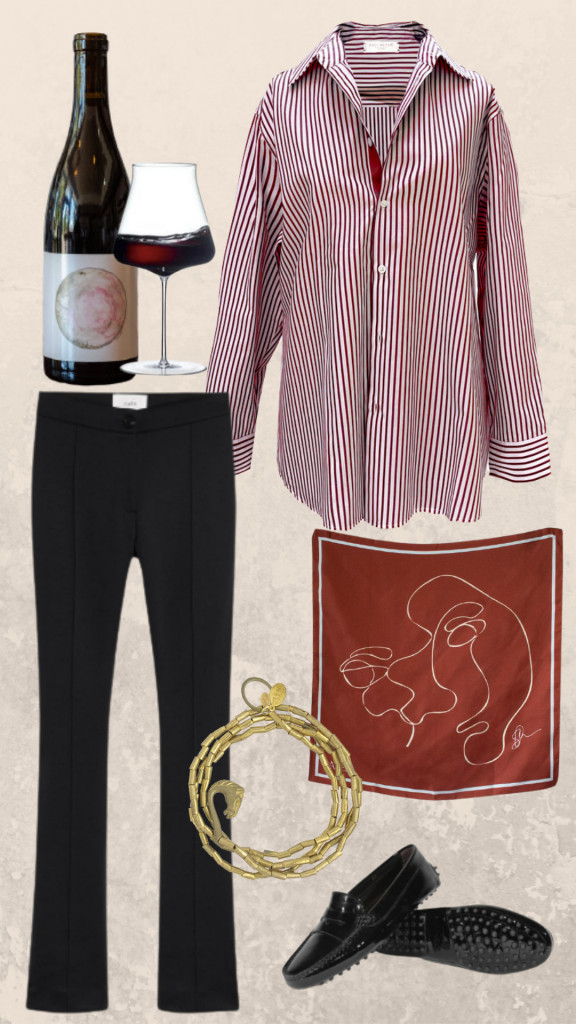 Here is what I would do: Scrunch the sleeves up on this fantastic shirt from Kallmeyer, wrap this bracelet from We Dream in Color around your wrist a few times, and tie the scarf around your neck loosely. Tres chic! These pants from Caes would be an absolute dream to wear on Thanksgiving since they are a bit stretchy. The oversized shirt would look sooo good paired with fancy leggings.
I love a good driver shoe. They are the epitome of a classic piece of clothing. I really love these patent leather ones from Aurelien. They are much more affordable than other drivers I've seen. Finally, the wine. A delightful Pinot Noir from female owned Casa Dumetz. Of course you have to have the right stemware (seriously it makes a huge difference) and this Pinot Noir specific glass from Zenology is my absolute favorite. Now you are ready to eat, drink, and look fantastic.
Elevated Cozy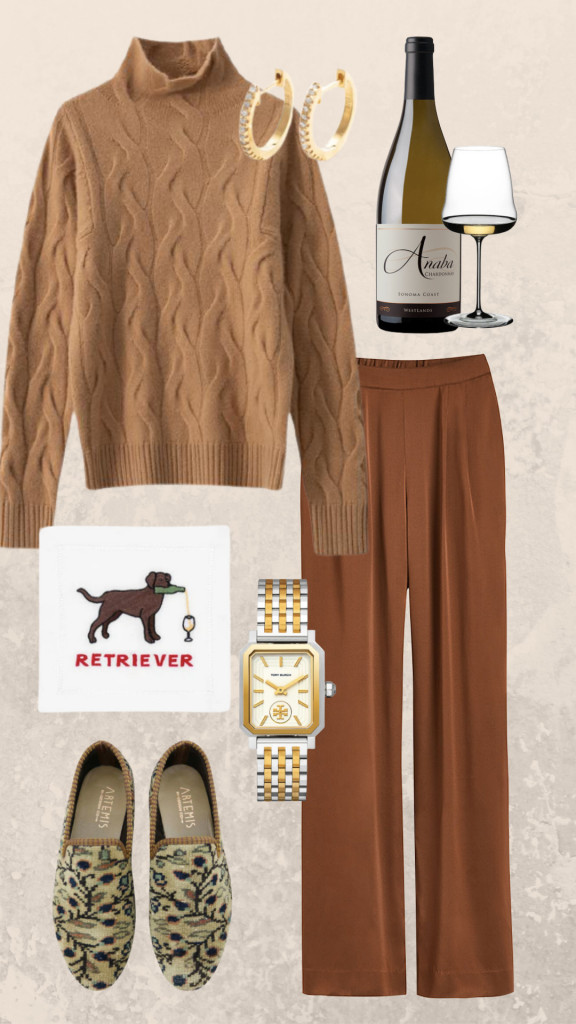 I adore everything in this edit. The colors and the textures feel very Fall to me. Let's start with this gorgeous camel sweater from Bellemere. Made from a cashmere and merino wool mixture which means it will be incredibly soft. Pairing this sweater with washable silk pants from Cuyana guarantees you will stay cozy and comfortable all day. I will confess I have been looking at these shoes from Artemis for about a year now. All of the shoes from Artemis are made in Instanbul from oriental rugs. How cool is that??
I really love the look of gold and camel tones together. Thus it was no brainer to pair this look with a gold watch from Tory Burch and small diamond huggies from Kinn Studio. How great are these cocktail napkins from August Morgan? I have quite a few August Morgan cocktail napkins and they always make me smile. And now the wine. The winemaker at Anaba is an incredibly talented woman. As always the proper stemware is a must. This crisp and lean chardonnay pairs perfectly with this cozy outfit.
Elegance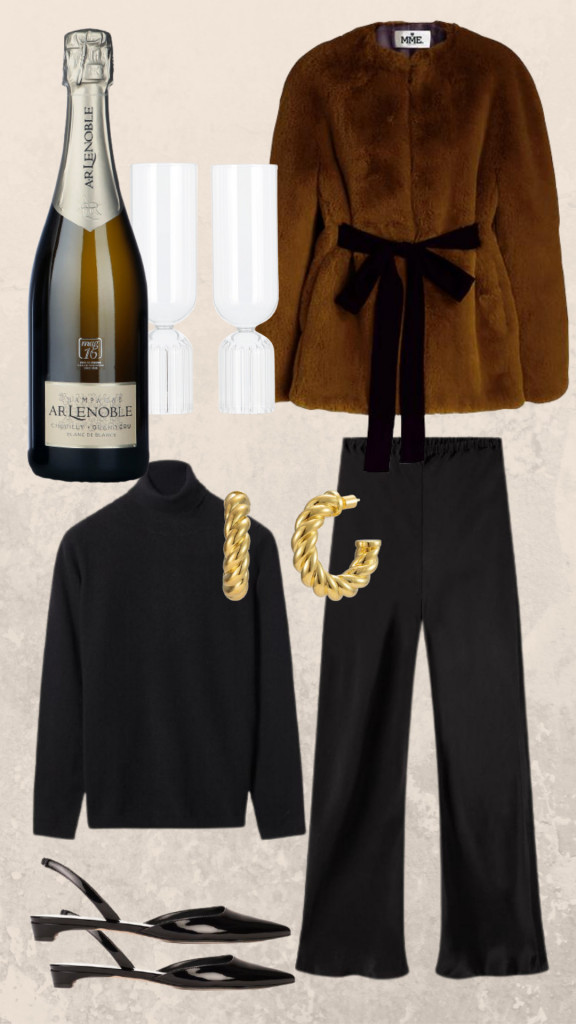 Oh la la. This outfit is one that will surely make you twirl and feel very fancy. The cognac faux fur coat from MME is what I simply cannot get over. This is very high on my wish list right now. Of course I went with a cashmere knit and silk pants. The silk pants are from the female owned brand Silk Laundry which makes stunning silk pieces. I am in love with the sweater and silk combination right now. It looks very elevated, yet you are incredibly comfortable.
I felt like this outfit needed a shoe that was a bit fancier, but still comfortable. These sling backs from Aera would look amazing with with outfit. Honestly though they would look amazing with everything. Gold hoops from Sudara Jewelry of course. I am probably a broken record at this point since I pair gold earrings with basically everything. This outfit absolutely needed Champagne. I went with a stunning Grand Cru Blanc de Blanc from A.R. Lenoble. Created by a female winemaker in France producing beautiful bubbles. Good Champagne needs a beautiful glass of course. These ones from Fferrone are stunning. I am constantly looking at the glassware from this company and fantasizing about buying basically everything.
Now, who is ready to get dressed for the holidays??