Another Tomorrow: The pieces from Another Tomorrow exists to realign this relationship for the curious, compassionate global citizen seeking elevated, thoughtful design, education, and tools for advocacy.
Caes: Each piece is made with fabrics with an extreme attention to detail with consideration of its quality and durability.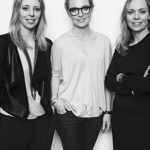 Chava Studio: Founded by Olivia Villanti in Mexico City in 2020. Every hand-crafted piece is designed and developed in partnership with Gilly e Hijos, a 30-year old family- run fabric and shirting studio.
Deadwood: Leather products that are made from rescued dead stock skins, repurposed vintage clothing and up-cycled post-production waste. An increased number of cut-lines in each garment enable them to use what otherwise would have gone to waste.
House of Dagmar: House of Dagmar is a Swedish fashion brand founded by three sisters. The pieces have a restrained Scandinavian look that will you can carry into your life for many years to come.
Reformation: The company makes effortless silhouettes that celebrate the feminine figure and pioneer sustainable practices, focusing on people and progress each step of the way.
Shand LA: Through sustainable sourcing of quality fabrics, releasing collections in small batches each piece is designed to be cherished for generations to come.