Another Tomorrow: The pieces from Another Tomorrow exists to realign this relationship for the curious, compassionate global citizen seeking elevated, thoughtful design, education, and tools for advocacy.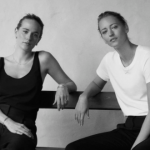 Asceno: Designed to allow a woman to be the purest version of herself; relaxed, carefree, and confident. Designs are modern yet timeless, withstanding the test of wardrobe time.
Hanna Fiedler: A womenswear brand born from the desire of equipping women with a wardrobe of effortless and timeless pieces in which they feel free, powerful and comfortable.
Mara Hoffman: The company focuses on sustainable materials, processes and encourages customers to re-evaluate their relationship with their clothes.
Maria de la Orden: The pieces seduce women in search of chic pieces that they won't find on their friends. Responsible and virtuous, the production is mainly European.
Really Wild: Every garment within the Really Wild collections has been designed by the designer herself. The designers inspiration is evident in every collection; timeless, modern styles that are rich in British heritage.
Shand LA: Through sustainable sourcing of quality fabrics, releasing collections in small batches each piece is designed to be cherished for generations to come.