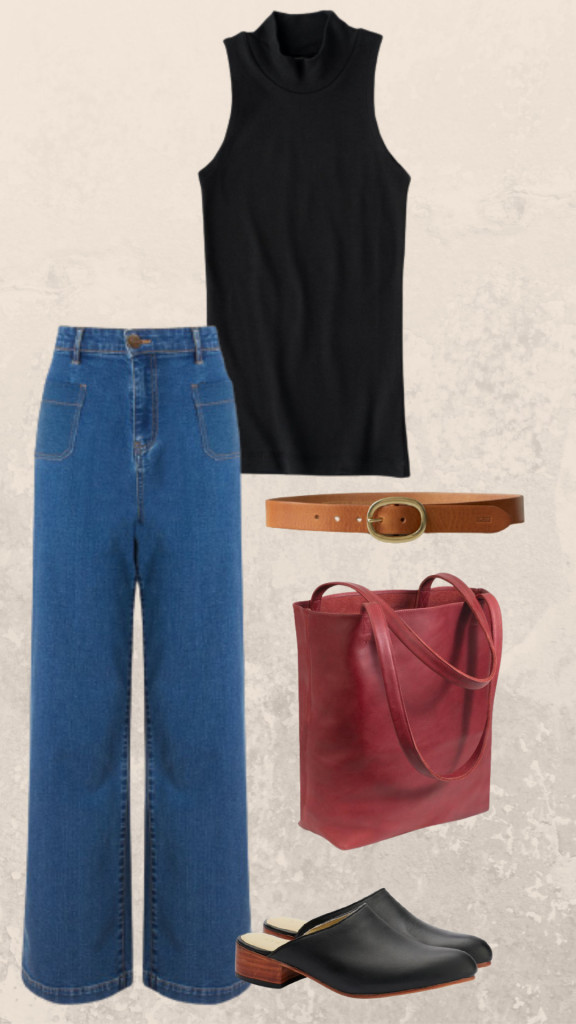 There are companies out there who not only create beautiful pieces, but also spend the time being transparent about where and how their creations are made. Not every consumer will spend the time looking through these companies websites.  It takes time to read all the materials they have to offer regarding their production process.
That does not stop them from being open and honest. They view full transparency as important to them. Each one of the companies I am featuring in the Friday Five this week has taken the time to explain their process. An act I find quite admirable. They want the consumer to not only buy their pieces, they want them to buy into their companies culture and ethos.
Friday Five: Practicing transparency
I wanted to create an outfit that was made for being out and about in the world. An ensemble that takes you from the grocery store to drinks with friends. I really love these organic cotton jeans by Baukjen for their 70's silhouette. I have really been into wide leg jeans because due to their comfort and versatility. Pairing them with a high neck black cotton tank from Kotn feels is perfect to achieve that retro look in a minimal and approachable way.
One of my absolute favorite brands for leather goods is Nisolo. I love the idea of a simple mule that I can wear daily and these mules look perfect. Not too high and with the black leather with brown heel they will go with everything. Another brand that I cannot get enough of is Closed. This cognac brown belt is just perfect. It will go with everything. Sense a trend here? I am always on the hunt for pieces that can be worn as many different ways as possible.
Every great outfit needs a great bag. This tote by Adelante is a gorgeous color that is perfect for carrying everything you need around stylishly. I tend to wear a lot of all black in the cooler months (and honestly warmer months) so finding a bag that adds a pop of color while still being practical is important.
Finding brands that are transparent about their production process isn't always easy. When you do find them and discover pieces you like you know you are buying more than just a piece of clothing, you are buying into an ethos.