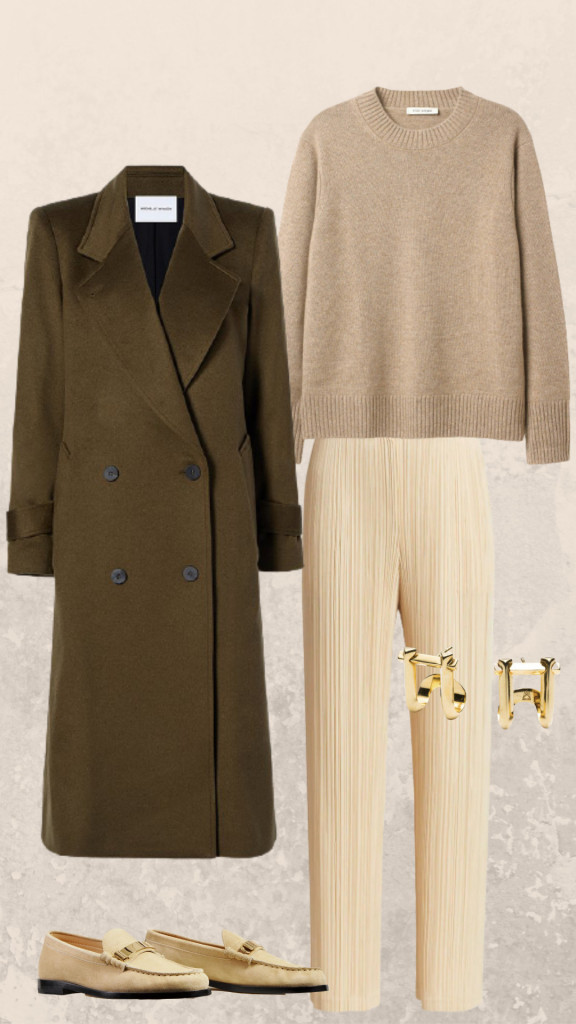 I have been thinking about Fall quite a bit recently. While I normally adore the summer months I am over the heat. This summer has been absurdly hot so I am longing for cooler days. This past week I wrote about how I did a giant closet clean out recently and I made a list of what I what I actually need. This Friday Five is made up of pieces that hit the mark for what I will wear now and well into the future.
Friday Pieces – Looking Forward to Fall
Last winter I was on the hunt for the perfect brown wool coat. I wanted a coat that is 100% wool and double breasted. I am very specific about my winter coats because I wear them everyday for months. This beautiful coat from Michelle Waugh is the perfect color, made from Italian virgin wool, and is made in NYC. This is a beautiful piece that would elevate any outfit.
Clothes Shopping
I discovered Ven Store last winter and I knew that at some point I would invest in one of their sweaters. This beige cashmere sweater is piece of clothing that will last forever and can be styled in a variety of ways. My blog post earlier this week was about being realistic about what I need for my closet and investing more versatile pieces is high on my list.
I cannot get over how comfortable these pants from Pleats Please Issey Miyake look. I have read a lot about this brand and how gorgeous they are in real life. During the warmer months I would pair these with a white tank top and then add a sweater once it starts to get cooler out. This is a pair of pants that can be dressed up and down. Perfect.
Jewelry for Fall
My hunt for the perfect pair of gold hoops has been going on for quite some time. I desire a pair of hoops that are unique, yet classic. Small, yet not too small. Jewelry is an investment and being picky is important. These gorgeous gold earrings from Third Crown hits all the marks. I love their unique design and their size. Adding these earrings to this outfit pulls it together beautifully.
Last year I bought my first pair of Dear Frances shoes last year and I was blown away with their quality. Is it just me or are shoes getting more and more expensive? Dear Frances creates beautiful high quality shoes without breaking the bank. The color of these loafers is neutral enough to go with everything, but they are far from boring. I particularly love the gold accent on the top. These are shoes you will wear forever.