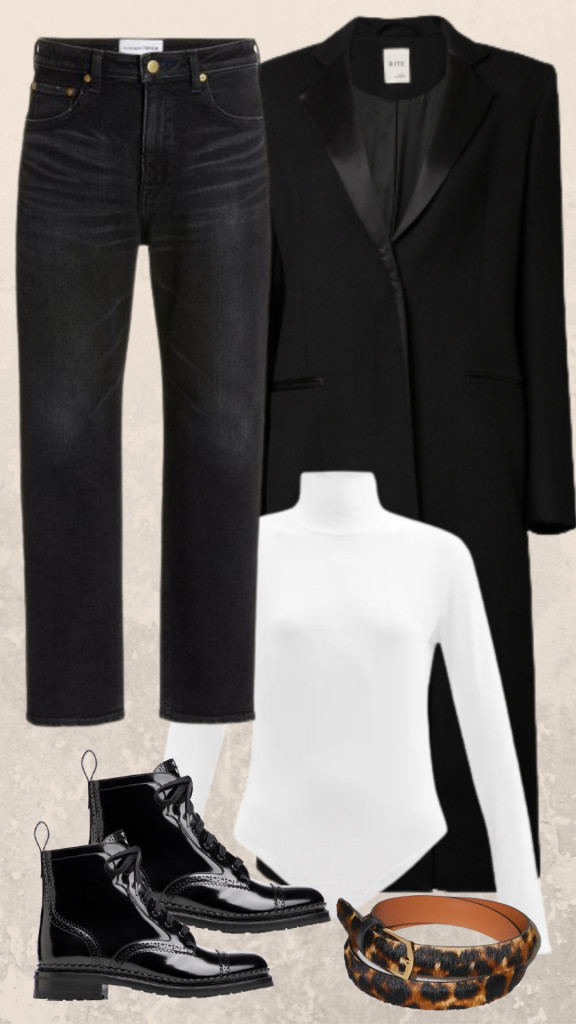 I will be honest this might be my favorite outfit to date. Mainly because I am obsessed with this coat from Bite Studios. I love a tuxedo coat and the idea of wearing a long line tuxedo coat is dreamy. This coat would make my oldest pair of sweatpants look good. Speaking of making everything look good these chelsea boots from The Office of Angela Scott are incredible. They are classic and very unique. I particularly like the look of the shiny boots and the silk lapels on the jacket.
Earlier this week I talked about the important of good essentials. This body suit from Another Tomorrow and belt from Maison Boinet are high on my list of coveted pieces. The leopard print on the belt is just fun. Because this outfit is mainly black and white I wanted to integrate a classic pattern (i.e. leopard) into the look. Let's talk denim. Tu es mon Tresor is a recent discovery for me and I love the timeless silhouettes. I wanted to go with black denim versus tailored trousers with this look because it feels more approachable.
I will now proceed to drool over this outfit for the foreseeable future.