Brookes Boswell: Everything in your closet—from functional essentials to considered statements—should tell your story. Brookes Boswell is focused on finding the balance of utilitarian ease and forward yet timeless style.
Cuyana: Fewer and better is the philosophy behind everything Cuyana creates. A timeless collections for the modern woman through carefully selected fabrics, precise silhouettes and attention to detail.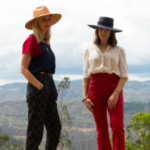 Freya: Straw hats that are made by hand, by women who have learned their craft from generations before them, and their technique has survived for over 3,000 years.
Gigi Burris: With a keen eye for details, and an intuitive sense of what's just ahead of the curve, Gigi Burris' hats are assured, effortless, and alluring. A headpiece made with passion and skill reveals itself in every fold, stitch, and embellishment.
Janess Leone: High-quality essentials that elevate your everyday outfit. An intentional balance of thoughtful construction and ease of wear, each piece is approached through a utilitarian lens.