66 North: The company expects their products to reduce the need for long-term consumption whether bought new or second-hand. ​Through their holistic approach to circularity that they minimize harm, mitigate their impact, and make a net positive impact on the world.​
Another Tomorrow: The pieces from Another Tomorrow exists to realign this relationship for the curious, compassionate global citizen seeking elevated, thoughtful design, education, and tools for advocacy.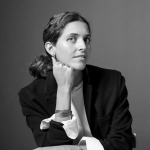 Harris Wharf London: By choosing fabric that guarantees longevity, trans-seasonal features and timeless design their pieces are designed to be in your closet for years to come.
Reformation: The company makes effortless silhouettes that celebrate the feminine figure and pioneer sustainable practices, focusing on people and progress each step of the way.